Australia has imposed sanctions against Belarusian president Alexander Lukashenko, members of his family, and 22 Russians in its latest move condemning the Russia's invasion of Ukraine.
Marise Payne, the minister for foreign affairs, said the sanctions had been imposed on Russian "propagandists and disinformation operatives" including senior editors from organisations such as Russia Today, the Strategic Culture Foundation, InfoRos and NewsFront.
Belarus, the authoritarian state lying to the north of Ukraine, has supported Vladimir Putin's invasion of Russia's western neighbour. Mr Lukashenko's nation has already been sanctioned by the UK, US and EU.
The Australian government has now sanctioned a total of 32 pro-Kremlin propagandists "reflecting the strategic importance of disinformation in Russia's attempts to legitimise Putin's unprovoked and illegal invasion of Ukraine", she said in a statement on Friday.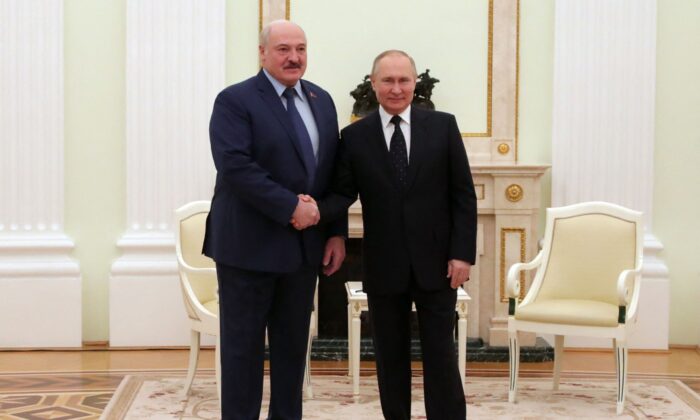 Australia imposed sanctions on the president of Belarus and his family members for their continuous "strategic support to Russia and its military forces in their assault on the sovereignty and territorial integrity of Ukraine", the statement added.
Sanctions have also been placed on the president's wife Galina Lukashenko and their son Viktor Lukashenko, who previously held senior national security roles in the Belarusian government.
These sanctions are in addition to sanctions previously imposed on 13 Belarusian individuals and entities, including minister of defence Viktor Khrenin, who the Australian government said has played a role of significant strategic importance to Russia by allowing Russia to launch attacks from Belarus.
"The Australian government reiterates our unwavering support for Ukraine's sovereignty and territorial integrity, and for the people of Ukraine," the statement said.
Australia may impose further sanctions if Belarus continues to support Russian actions in Ukraine. "We again call upon Russia to immediately withdraw its military forces from Ukraine," Ms Payne said.
The country's athletes have also been booted out of the upcoming Paralympic Games in China, and the US State Department has shuttered its embassy in Minsk in opposition to Belarusian military collaboration with Moscow.