Hong Kong riot police have used tear gas, rubber bullets and water cannon to disperse crowds as tens of thousands marched in the city, defying a ban.
Officers also fired live warning shots as they tried to clear the streets.
Protesters lit fires, threw petrol bombs and attacked the parliament building. A number of people were later held as they fled into metro stations.
Saturday's event to mark five years since China ruled out fully democratic elections was banned in Hong Kong.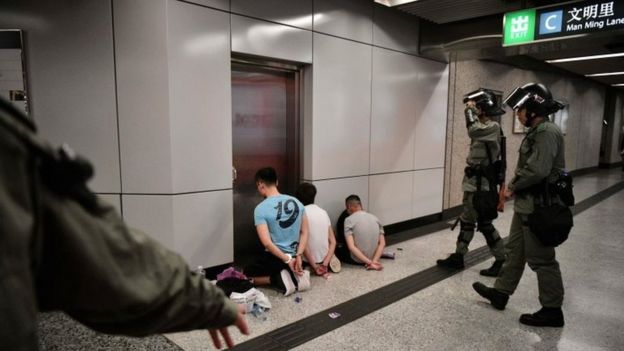 On Friday, several key pro-democracy activists and lawmakers in China's special administrative region were arrested.
The protest movement grew out of rallies against a controversial extradition bill – now suspended which would have allowed criminal suspects to be sent to mainland China for trial.
It has since become a broader pro-democracy movement in which clashes have grown more violent.
Protesters took to the streets in the Wan Chai district, many joining a Christian march, while others demonstrated in the Causeway Bay shopping district in the pouring rain. Many carried umbrellas and wore face masks.
On the 13th weekend of protests, demonstrators – chanting "stand with Hong Kong" and "fight for freedom" – gathered outside government offices, the local headquarters of China's People's Liberation Army and the city's parliament, known as the Legislative Council.
In the Admiralty district, some protesters threw fire bombs towards officers. Earlier, protesters marched near the official residence of embattled leader Carrie Lam, who is the focal point of much of the anger.
The riot police had erected barriers around key buildings and road blocks, and fired tear gas and jets of blue-dyed water from water cannon. The coloured liquid is traditionally used to make it easier for police to identify protesters.