Belarusian riot police have detained many protesters after clashes at the latest mass march against President Alexander Lukashenko.

Protests have swept the eastern European country since Mr Lukashenko claimed victory in an August election widely viewed as rigged.

Thousands thronged the streets of capital Minsk for another Sunday rally.

Video showed masked police using water cannon to disperse protesters in the city.

Many opposition activists have been beaten up by police and thousands have been arrested during months of unrest. They are demanding the release of all political prisoners and a free and fair re-run of the election.


The EU and the US have refused to recognise Mr Lukashenko's new term. Mr Lukashenko denies fixing the poll and has received support from Russia, his country's closest ally.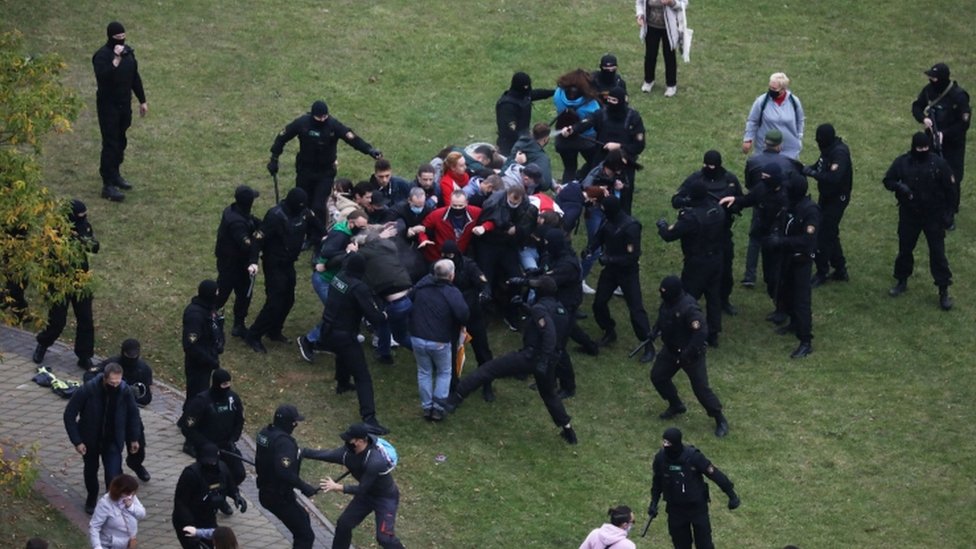 Svetlana Tikhanovskaya emerged as the main opposition leader after standing against Mr Lukashenko in August's election, arguing she would have won had it not been rigged.

Ms Tikhanovskaya was forced to go into exile in Lithuania after receiving threats following the disputed vote. She has repeatedly appealed to the international community to put pressure on Mr Lukashenko so that a democratic transition can be launched by negotiation.

Opposition hopes of a peaceful resolution were raised on Saturday after Mr Lukashenko held an unexpected meeting with political opponents in the jail where they are currently detained.

State media reported that the president called the meeting to discuss constitutional reform with his imprisoned opponents.

Footage shows the security forces, dressed in black and armed with batons, rounding up peaceful protestors congregating in Minsk city centre and taking them to waiting vehicles.

Police reportedly used stun grenades and water cannon, spraying plain and coloured water at demonstrators.

The Viasna rights group, which monitors detentions at political protests, said at least 39 people had been detained in Minsk as well as about a dozen in other cities.

A local news website described police using tear gas on crowds and said police were herding people into courtyards.

Journalists covering the demonstrations were among those detained, including those from Russia's Tass agency and the state Belarusian news agency BELTA.