Argentinian politicians have passed a bill which overhauls the country's highly restrictive abortion laws and allows women to legally have abortions in the majority of instances.
The legislation, which permits women to have an abortion up to the 14th week of their pregnancy, still needs to be voted on by the Latin American country's Senate with the verdict expected before the end of the year.
Current laws mean abortions are only allowed if the pregnancy is due to rape or in instances when the mother's health or life is in danger.
The debate on the legislation in the lower house of the congress stretched from Thursday into the early hours of Friday due to abortion being a massively divisive issue in the predominantly Roman Catholic country. The bill passed by 131 to 117 votes with six lawmakers choosing to refrain from voting.
Campaigners warn the current law on abortion is not consistently implemented in Argentina and abortions are routinely unavailable even when women are legally entitled to access them.
Alberto Fernandez, the Argentinian president who supports abortion rights, has said the new legislation would ultimately save lives, as more than 38,000 women are forced to go to hospital each year after illegal abortions go wrong and more than 3,000 have died since 1983.
Abortion rights campaigners gathered outside the congress building all night in the Argentinian capital of Buenos Aires – weeping and hugging each other when news of the vote emerged.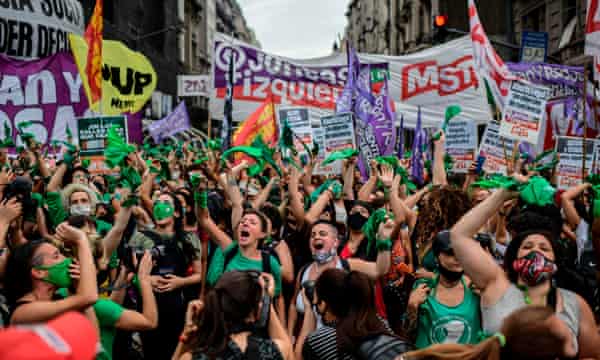 Paula Avila-Guillen, executive director of the Women's Equality Centre, told The Independent: "After this massive approval in the house, Argentina is one step closer to solidifying as a leader in fully recognising women's rights. 
"It is now time for the senate to pass this bill and choose to be on the right side of history by guaranteeing the health care rights for the over 22 million women in Argentina.
"We have long known that archaic abortion laws are not deterrents, they only lead to unsafe clandestine abortions that threaten the health and lives of the most vulnerable women and girls. By passing this historic bill, the Argentinian senate will be saving countless lives."
Earlier in the week, a doctor who provides abortions in Argentina told The Independent she has witnessed women arrive at the health centre in desperate situations after having to resort to unsafe backstreet abortions.
Dr Betiana Olearo, who works in Cordoba in central Argentina, said: "I remember a woman dying in a health centre I was working in because of having a clandestine abortion. This was impactful. Not just for her family. But for her community. She left behind four children. They remained alone after she died."
Her comments came as Argentinian healthcare professionals condemned the decision to refuse a 12-year-old girl an abortion who was pregnant with twins due to allegedly being raped.