Madagascan President Andry Rajoelina has officially launched a medicine he believes can prevent and cure patients suffering from COVID-19.
Developed by the Malagasy Institute of Applied Research and branded COVID Organics, President Rajaolina presented the so-called remedy to the press on Monday. It contains Artemisia, a plant cultivated on the Big Island to fight against malaria.
"All trials and tests have been conducted and its effectiveness in reducing the elimination of symptoms has been proven for the treatment of patients with COVID-19 in Madagascar," the president said.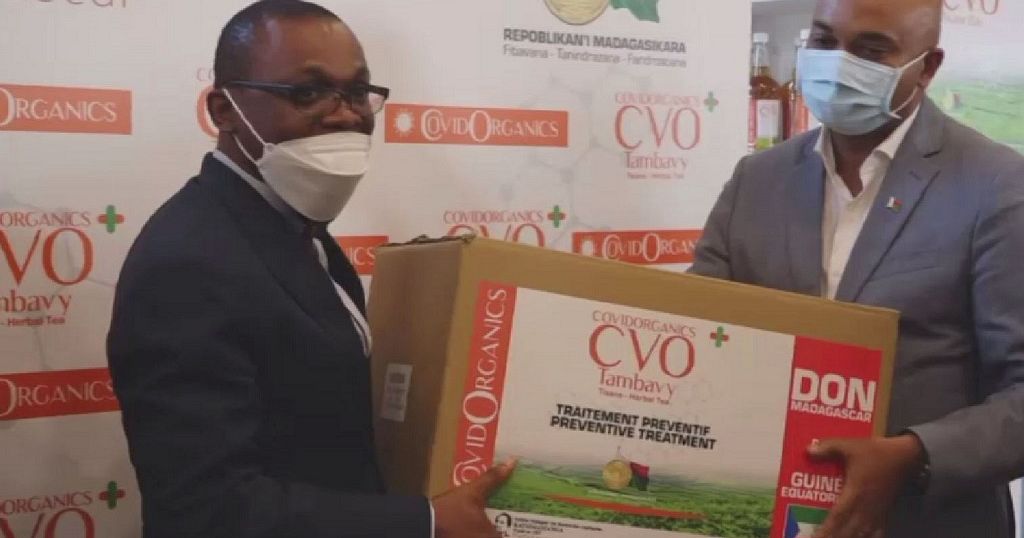 A presidential decree said COVID-organics is mandatory for children returning to school on Wednesday. President Rajaolina said Monday that it had cured two COVID-19 cases.
"The Covid-Organics will be distributed free of charge to our most vulnerable compatriots and sold at very low prices to others. All profits will be donated to IMRA to finance scientific research," the president wrote on Twitter.
Equatorial Guinea president sent a special envoy with a chartered flight to Madagascar to take delivery of COVID-Organics, the purported and much-touted COVID-19 prevention and cure mixture.
The Malagasy president posted the development on his official Twitter handle. "Special Envoy of the President of Equatorial Guinea, Deputy Minister of Health Mitoha Ondo arrived on Malagasy soil to collect the Tambavy CovidOrganics / preventive and curative," Andry Rajoelina tweeted.
He added: "Madagascar is there to help all friendly countries against COVID19." Reports said the plane collected some 11,500 doses of COCID-Organics.
Of the consignment, 10,000 doses are of the supposedly preventive treatments and 1,500 doses of curative treatments, they were given as a donation by the Madagascar government.
"There are two treatment protocols (curative and preventive). The state of health of Covid-19 patients who took Tambavy CVO CovidOrganics improved after 7 days and fully recovered after 10 days," President Rajoelina added.