German police deployed water cannon to disperse a mass anti-lockdown protest outside Berlin's Brandenburg Gate.
Hundreds of protestors gathered to oppose the government's coronavirus restrictions as German MPs debated a bill to provide the legal underpinning for the government to issue social distancing rules, require masks in public and close stores and other venues.
In scenes replicated across the continent and the world, those opposed to the measures took to the streets despite popular support for measures to quell the spread of the virus.
Officers said the crowd refused to listen to their requests to wear masks and keep their distance from one another in line with regulations.
And as the cannon shot into the crowd outside the iconic Berlin monument police in riot gear moved through, carrying away some protesters.
In response some in the crowd lobbed fireworks and flares towards the police line.
Anti-lockdown groupings have galvanized those with a mixture of political allegiances and ideologies opposed to the infringing of individual liberties that many governments have turned to in a bed to stem the spread of the virus.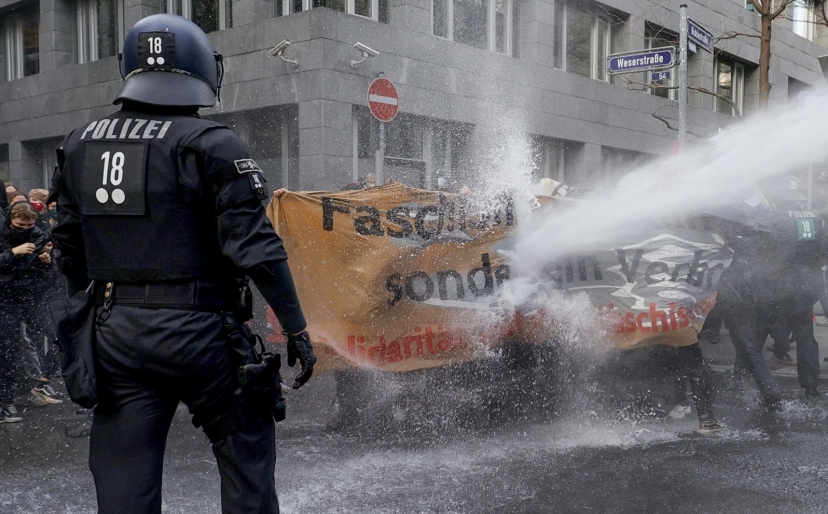 "We want our lives back," read one sign carried by protesters. Another said "Put banks under surveillance, not citizens".
One demonstrator held a flag with a picture of outgoing US President Donald Trump and an image invoking the right-wing conspiracy theory "QAnon," while another had a placard showing top German virologist Christian Drosten in prison garb with the word "guilty."
Heiko Maas, the German foreign minister, issued a strong response to claims from some opposed to lockdown measures that the rules were similar to the 1933 "Enabling Act," which allowed the Nazis to enact laws without parliamentary approval.
"Everyone, naturally, has the right to criticise the measures, our democracy thrives through the exchange of different opinions," he wrote on Twitter.
"But whoever relativizes or trivialises the Holocaust has learned nothing from our history."
It comes as German health minister Jens Spahn warns the Virus pandemic was a major test that would have costs, whatever the response.